Information about Elbow Arthroscopy
Three bones come together to create your elbow joint. They are the humerus (upper arm bone), radius and ulna (forearm bones). The radius bone also rotates to allow your arm to turn back and forth. The "bony" part on the back of your elbow is the called the olecranon. The two bones you feel on either side of your humerus bone are called epicondyles. The epicondyles attach muscles and tendons which hold your elbow joint together. Nerves and blood vessels also run along side this mechanism of bones, muscles and tendons. All of these components of the elbow in addition to the "tight quarters" in which it resides makes the elbow a complex structure compared to other joints in the body.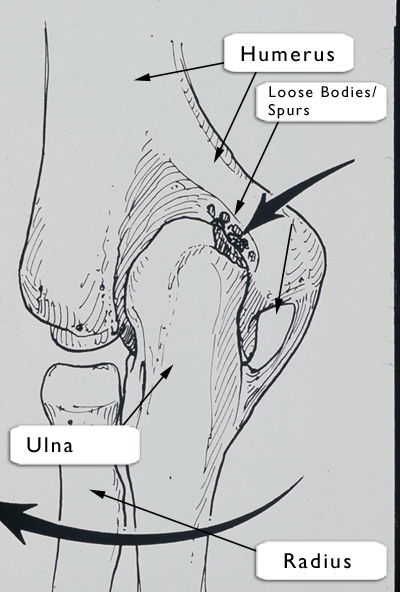 Patients can develop problems in their elbows due to many factors such as arthritis, overuse of the elbow and injuries creating loose particles. In some instances, elbow arthroscopy can be a good option for treatment. Due to the small joint space and nature of the anatomy of the elbow, arthroscopy of the elbow is more difficult to perform than other joints. The benefits to having an elbow arthroscopy versus and open surgical procedure can be very significant. An elbow arthroscopy is a less invasive procedure which can reduce recovery time. Patients typically have less pain, regain their range of motion sooner and have less stiffness than traditional open surgery. Typically there are 3-4 very small puncture incisions which create a more cosmetic appearance after surgery compared to a long incision. The nerves are also located in an area of concern which must be taken into consideration when doing elbow arthroscopy. It is not routinely done by most orthopedic surgeons due to the difficult nature of the surgical technique. Dr. Cooper has performed over 150 elbow arthroscopies. Although it is more challenging, Dr. Cooper's technique with performing elbow arthroscopy minimizes the chance of nerve damage and provides good results to the patient's primary problem. Below are listed some of the common problems that are well suited for treatment with elbow arthroscopy:
Arthritis
Patients with arthritis have changes to their bone surfaces that can create bony spurs. Some of these pieces can break off causing the elbow to "lock up" when bent and cause pain. Patients can experience decreased range of motion as well. The goal of elbow arthroscopy is to clean the bony surfaces to make it smooth as possible, remove loose particles (loose bodies) and burr down bony spurs to make a smooth surface. This is accomplished using a motorized shaver and motorized burr. The shaver removes and flushes out inflamed and frayed tissue. The burr will burr down uneven bony surfaces creating a smoother more contoured surface.
Ulnohumeral Arthroplasty
Occasionally, more severe forms of arthritis involve more thorough forms of debriding the elbow joint. Larger bone spurs and increased numbers of loose bodies are typically evident. Patients often have more trouble with range of motion. This procedure is known as an arthroscopic ulnohumeral arthroplasty. A small hole (1.5 cm) is created in the bone to connect the back and front aspects of the elbow joint. This allows for safe removal of spurs and loose bodies without having to actually make additional incisions or portals in the front of the elbow. By doing this, the risk of nerve injury is greatly reduced. Nerve injury is the biggest risk in elbow arthroscopy. With this new technique, Dr. Cooper has never had a case of nerve injury in elbow arthroscopy. The following arthroscopy pictures demonstrate what the elbow joint typically looks like before and after Ulnohumeral Arthroplasty: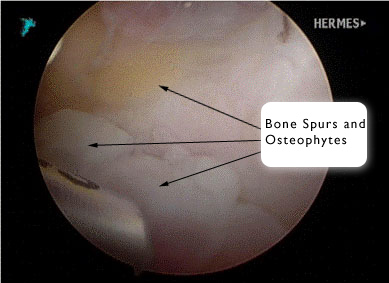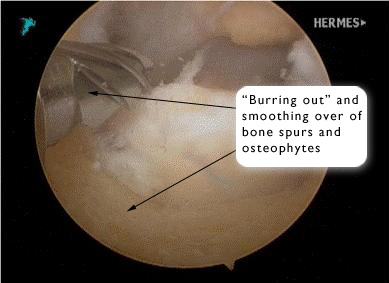 Osteochondritis Dissecans
Osteochondritis dessicans is a condition in which fragments of bone or cartilage loosen or detach and could "float around" in the elbow joint. It generally occurs in the growing elbow of teenagers, gymnasts and throwing athletes. This can create pain, possible reduced range of motion and possible locking episodes in the elbow if loose bodies are present. Arthroscopic treatment consists of cleaning out the damaged area by shaving out frayed and damaged tissue and possibly removing the fragments. On occasion, the fragments may be surgically fixed if there is good potential for healing.
Rheumatoid Arthritis
Patients with rheumatoid arthritis have an inflammation of the lining of the bones. They often develop pain, swelling and reduced range of motion of the elbow. The goal of treatment is to remove the synovitis to settle down the inflammation and prevent further destruction of the joint. This is accomplished by shaving and flushing out the inflamed synovial tissue.
Loose Bodies
Occasionally, a simple floating loose body occurs in the elbow joint. This is perfectly suited for elbow arthroscopy.
Mechanical Popping
Elbow arthroscopy can also be used to remove other abnormal structures that can cause snapping or popping in the elbow.
Elbow Instability
Elbow instability is not uncommon in throwers. Arthroscopy plays a role in assessing and treating the instability, and commonly to correct other associated lesions. However, if surgery to restore stability is needed, then that is done as an open incision technique.