An Important Patient Medicare Message:

After almost 20 years of participation in the Medicare program, I now have resigned and am no longer a Medicare provider. What this means is that I cannot bill Medicare for professional services, and would need to charge Medicare patients directly for my services when they see me in the office or have me perform their surgery.
The following is a brief explanation:
Medicare is a broken system with increasing financial obligations and decreasing funding by Congress. 2009 payment rates are 40-45% lower than 1990 rates in inflation adjusted dollars, and generally fall below my overhead level. Congress continues to mandate use of a flawed formula tied to overall healthcare spending that penalizes providers for doing their job, and completely disregards practice expense inflation. It is the use of this formula that has created a disconnection between overhead costs and what Medicare will pay (see graph).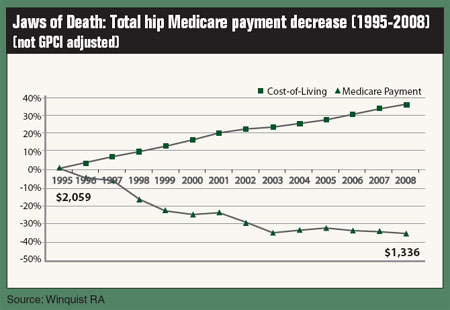 More concerning is a new national Medicare policy of contracting with companies who have authority to audit our practice looking for documentation errors. These bounty hunters have a direct financial incentive (20 % commission) to find fault in coding or record keeping, levy large fines, and yet we are offered no due process. It is for this reason primarily that I am no longer a provider in the Medicare program. Please know that I am committed to the highest quality care I can give all my patients, and that this policy is the best way for me to accomplish that goal. Although I do not accept Medicare, I certainly do see older patients in consultation. A senior citizen discounted price is available if this creates financial hardship. Daniel E. Cooper, MD