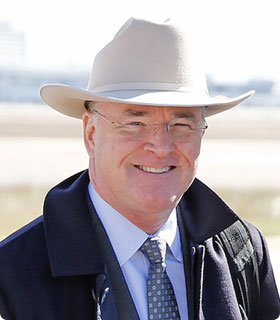 Kappa Delta Award
Dr. Cooper is on the Advisory Board of the MARS Study Group and
part of the research team that was given this prestigious award,
given annually by the American Academy of Orthopaedic Surgeons,
for the research having the most significance and impact on
patient care.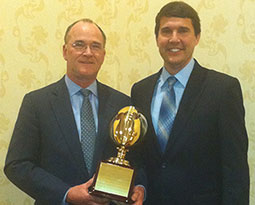 Team Surgeon Named Recipient Of Jerry "Hawk" Rhea Award
Posted Feb 26, 2013
IRVING, Texas – The Cowboys medical staff continues to get recognized, as team orthopaedic surgeon Dr. Dan Cooper was named the 2013 recipient of the Jerry "Hawk" Rhea Award, presented annually to the most outstanding NFL team physician.
The award won by Cooper is selected by the Professional Athletic Trainers Society and is named for Jerry Rhea, who was the head athletic trainer for the Falcons from 1969 to 1994. Rhea then worked as Assistant to the President of the
Falcons until 2001.
Cooper's been the head physician for the Cowboys for the past 24 years and has been affiliated with the team since 1992. He's the senior partner of arthroscopic surgery and sports medicine at the Carrell Clinic in Dallas.
Dr. Cooper part of team that won the 2014 O'Donoghue Award
Posted July 28, 2014
As a leading contributor and Scientific Advisory Board member to the Multicenter ACL Revision Study (MARS), Dr. Cooper was part of the research team that won the American Orthopaedic Society for Sports Medicine prestigious 2014 O'Donoghue Award for the best clinical research paper in sports medicine.
O'DONOGHUE SPORTS INJURY RESEARCH AWARD
2014 Recipient | Revision Anterior Cruciate Ligament Reconstruction Graft Choice Impact on Outcome in the MARS Cohort
Rick W. Wright MD, Laura J. Huston MS, Amanda K. Haas MA, Kurt P. Spindler MD, Sam K. Nwosu MS, on behalf of MARS Group
Don H. O'Donoghue MD has been called the Father of Sports Medicine in the United States. His early work on knee injuries led to the development of the subspecialty and started the interest in the care of athletes.
The O'Donoghue Sports Injury Research Award is given annually to the best overall paper that deals with clinical-based research or human in vivo research.